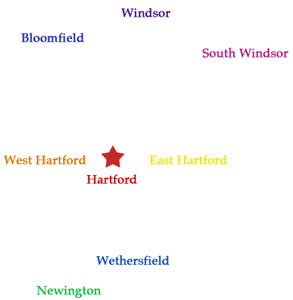 For the benefit of women in need in the following towns:
| | | |
| --- | --- | --- |
| | · Bloomfield | · South Windsor |
| | · East Hartford | · West Hartford |
| | · Newington | · Wethersfield |
| | | · Windsor |
What We Do
The Larrabee Fund Association of Greater Hartford distributes funds designated by the will of Major Charles Larrabee, which was probated in 1863, to women residing only in the above listed towns.
As indicated in his will and memoranda, Major Larrabee's clear desire was to help "lame, deformed, or maimed females ...sick females who are in want" or "other sick or poor persons at last".
In keeping with his wishes, grants are given to women who cannot support themselves because of age, illness or disability. Assisting older women is a priority. Assistance may be in the form of a one-time payment of medical or living expenses. Monthly stipends, not to exceed $225/month for three-six months are also considered.
The Fund does not pay for credit card bills, educational expenses, travel expenses, insurance premiums, taxes, or more than $1000 for dental bills. Women on public assistance may not receive a monthly stipend. Men are not eligible for funding. Those seeking assistance for residents of Hartford, please see the Hartford Larrabee Fund website at www.HartfordLarrabee.org.
The Board meets to consider applications on the first Tuesday of each month and complete applications must be received by the thrid Thursday of the prior month in order to be considered. The Board consists of not more than 25 women, who represent religious congregations within the service area and the city of Hartford. Applications are reviewed without regard to the applicant's race, religion, or country of origin.
Dear God, there is but one human family, whose children find refuge in the shadow of Thy wings. How precious is Thy steadfast love, O God! Help us to set an example in deeds, as well as in words, of the kind and charitable duties of all Thy family, and to reflect ever devoted love to all fellow beings in all the future and hereafter.
Amen.